Column # 1


Arms of the Great Steward until 1371
---
The Royal House of Stewart resided at Stirling, Linlithgow, Falkland, etc., and was founded by Robert II (2 March 1316 – 19 April 1390). He was the great-great-grandson of Justiciary Walter fitz Alan STEWART (~1198-1246), the third High Steward of Scotland and the first member of this family to use the surname Stewart (Stiubhard in Gaelic, Senescalli in Latin). King James I of England (1566 – 1625) and his descendants belong to a cadet branch of this aristocratic family line, house or dynasty (the sixth of nine enthroned in England since 927 AD).

After Robert II's death his third son Robert Stewart, 1st Duke of Albany (c. 1340–1420) ruled Scotland. The Duke's son Murdoch Stewart governed Scotland until his first cousin King James I of Scotland was ransomed. James I had Murdoch and most of his sons beheaded on 24 May 1425. Murdoch's youngest son and only surviving heir James Mor Stewart fled to Antrim, County Antrim, Northern Ireland. Murdoch's descendant Andrew Stuart, 1st Baron Castle Stuart of Stewartstown, County Tyrone was one of the chief undertakers in the Ulster Plantation that brought Presbyterians to Ireland during the 1600s.

All of Walter's descendants have SNP (Single Nucleotide Polymorphism) R-L745, a deletion that can not back mutate. This mutation is "... only seen in direct descendants of the Stewart dynasty, kings and queens who ruled first Scotland and then Great Britain and Ireland between 1371 and 1701" according to Dr. Jim Wilson of ScotlandsDNA and BritainsDNA. All men who test positive for SNP R-L744 and/or L745 and/or L746 descend from the High Stewards.

The Duke of Buccleuch and about 30 members of this project tested positive for R-L745. A duke (e.g. 39568) is a nobleman with the highest hereditary rank, especially a man of the highest grade of the peerage in Great Britain. The Dukes of Richmond, Grafton, St. Albans and Buccleuch (the largest private landowner in the UK) are descendants of King Charles II of England. Some of them are officers of the Royal Stuart Society. Click here to read about its events, e.g., a free public lecture about James IV on 30th October, 2013.

The aforesaid dukes and about 20% of the members of this patrilineal family do not have the surname Stewart, possibly because their patrilineal ancestors chose a different surname over 800 years ago, or because of a non-paternity event (NPE), e.g., infidelity, illegitimacy or a hidden adoption. "... on average only 50% of individuals sharing a unique surname will have inherited the original Y chromosome of the founding ancestor..." (Northern European genepools have lower than average rates of NPE and crime, e.g, rape).

About half of all Scots who have the occupational surname Stewart (or a variation thereof) descend from Walter. So do all of those whose test results are listed in the bright yellow colored subgroups of this project.

Walter and his five known sons are patrilineal descendants of the lord of Oswestry in Shropshire and of Alan (a crusader in 1097), the hereditary Seneschal of the Bishops de Dol de Bretagne. "Alan, the Dapifer of Dol in Brittany, was of Celtic extraction. Brittany was a separate Celtic country founded by Welsh, Cornish and probably Strathclyde immigrants who settled there in the early IIIrd, IVth and Vth centuries. Alan's family is said to have been a cadet branch to the Dukes of Brittany who were kings two centuries earlier. Hence, while Alan's descendants were followers of William the Conqueror, they were not of Norman extraction."
Some of Alan's patrilineal ancestors may have belonged to the Celtic tribe known as Dumnonii, and fled to Armorica after polytheistic Germans, a.k.a. the English, invaded their homeland (now called England). If Roman imperialists had not disarmed the British, they might have defeated the Anglo-Saxons. According to an article by Alistair Moffat in the 27 December 2011 issue of the Scotsman, "It may well be, on the evidence of DNA, that the Stewart dynasty of Scotland and of Great Britain and Ireland actually originated in the south or south-west of England..." If Allan's pagan ancestors lived in that part of Britain some of them may have helped to build Stonehedge about 5000 years ago.

Skip to Column # 9 about the first farmers if you want to read more historical and anthropological information about the Celtic ancestors of this Stewart family.
The yellow sun with twenty-one rays represents Mithra, the Sun as symbol of God, in Yazdani faiths.
---
Note:
---

Scroll down to see images. Click on them to see sources.
Scroll to the top and right if you want to read Column # 2. ====>
Column # 2


Welcome to the Phylogenetic Project for patrilineal descendants of the

High STEWARDS of Scotland
Shopping for a DNA Test
Everyone has a haplotype. If your haplotype (y-STR test results) and the Modal Haplotype of this Stewart family are an exact match (and your surname is not Stewart or a version thereof), the chances that you descend from the High Stewards are about:
2% at the $59 Y-DNA12 test level
50% at the Y-DNA25 test level
85% at the $169 Y-DNA37 test level
100% at the Y-DNA111 and $268 Y-DNA67 test levels.
The chances are less if the match is less close. All prices are subject to change. Some tests cost less during sales, and if you join a project before ordering. You may have to wait longer for your test results during a sale.

The more STR markers we can compare the better we can determine how closely people are related, and to which branch of this family they belong. "I have found the 111-marker test absolutely invaluable for sorting out subfamilies within a single large family group of known surname" Belinda Dettmann

We recommend "that those who have the Western Atlantic Modal Haplotype (WAMH) use the Y67 or Y111 test to confirm genealogical relationships unless they have a rare surname." Some advantages of testing 67 markers over testing 37 are:
By using additional markers groups of related participants have a better chance of finding mutations which identify sub-branches of their family.
People whose test results match closely at the Y67 level, or who have the same terminal SNP (e.g., R-L745), know that they belong to the same genetic family even if they have different surnames.
A Y67 test can further refine our estimate of how closely related two individuals are.
"The Y111 test is intended for those who wish to refine the time to most recent common ancestor (TMRCA) calculation with a close or exact match and who wish to improve the confidence in a match.".
---
Whose DNA to test?
Y-chromosome DNA tests are the most informative genetic system for identifying ancestral lineages. They are for MALES only. Testing the DNA of an older generation (e.g., your father) may eliminate a recent mutation from comparisons. Test the DNA of your most distant genealogically proven patrilineal cousin too in order to determine if a mutation has occurred since your Most Recent Common Patrilineal Ancestor (Y-MRCA) lived. A woman may be able to test the DNA of her biological father, brother, patrilineal cousin, etc.

An autosomal test (e.g., Family Finder) may be taken by either a male or a female, and may identify hundreds of maternal and paternal cousins. If a Y-DNA test proves that an adoptee descends from the High Stewards of Scotland, an autosomal test may help him to identify some of his first, second, third, etc. Stewart cousins. The challenge is to figure out how distant cousins are related to you, e.g., via which gggGrandmother, etc. Your grandfather's Family Finder test will show paternal cousins and clues to the identity of ancestors who are more distantly related to you than your own FF test would.

The Genetic Genealogy Success Stories of the International Society of Genetic Genealogy (ISOGG) explain how some people have benefited from Y-DNA, autosomal and other kinds of DNA tests.
---
Identifying Your Genetic Homeland
This is not an endorsement of a genealogical method or service.

"Since modern science can pinpoint a Genetic Homeland it can also be used to confirm it by DNA testing individuals from the pinpointed area."

According to guest speaker Dr. Tyrone Bowes, Ph.D, a person whose matches have different surnames may be able to use those surnames to "... pinpoint where one's direct male ancestor lived when he first picked his surname ... If your ancestors were in their Genetic Homeland 1000 years ago, his descendants (your distant relatives) are still living there even today; to confirm the paternal ancestral link with the identified area one simply has to recruit males living in that location for a Y-DNA test." "Put very simply those surnames arose among a group of related males living in a very specific location, find out where those surnames originate and you'll reveal a common area of association..... literally revealing your paternal GENETIC HOMELAND". He explains how to do this in detail via an article called Case Study Pinpointing the Stewart Paternal Ancestral Genetic Homeland.

Where in Ireland is the surname STEWART Most Common? Click here to see where it was most common in Scotland in 1881, and here for the STUART spelling.
---
STR Test Results
Y67 tests measure the number of differences, or STR mutations, between two sets of results, i.e, their Genetic Distance (GD) from each other. The more closely related two members of this lineage are, the less GD between them there is likely to be. E.g. the GD between brothers 5987 and 16895 is 1@67 and 3@111, between fourth cousins 199984 and 143035 is 2@67 (about one mutation every six generations), and between the ducal descendants of three different sons of King Charles II (1630-1685) is 3@67.

If your cousins' GD from you is more that 7@67 (~10%) their email addresses may not be included in your list of your matches. The GD between 5603 and 143035 is 11@67 (16.4%) and between some descendants of the High Stewards of Scotland may be as high as 14@67 (~20%).
---
Signature Marker Values
All descendants of the High Stewards of Scotland who have the surname Stewart and who belong to this project have the "genetic signature" Y-GATA-H4 = 10, DYF 406 S1 = 11 and DYS 565 = 11 so far.

Please carefully peruse Diana Gale Matthiesen's web page about "Signature Markers: What They Are and How to Use Them" if you want to help to determine to which branch of a lineage someone belongs.
---

Column # 3 ====>
Column # 3



http://en.wikipedia.org/wiki/King_James_VI_of_Scotland
---
This Family's Haplogroups and Modal Haplotype
A haplogroup (HG) is a group of similar haplotypes. Every member of this Stewart family is in haplogroup R (a.k.a. IX in some scientific journals) and more specifically in haplogroups R-L744, L745 and L746 (children of haplogroup DF41).

The haplotype of a family's Y-MRCA is its Ancestral Signature or Ancestral Haplotype. If it can not be determined or deduced by testing his remains, it is assumed (perhaps wrongly) to be the Modal Haplotype or mode of all of his tested descendants.

A Modal Haplotype is the most common result or value for each STR marker or allele tested in a group of results. The one and only mode at the Y67 level of more than eighty patrilineal descendants of Walter is the same as the test results of 181994.

Descendants of Walter who belong to the same generation have the same relationship to him no matter what their GD from his assumed haplotype is. E.g., brothers 5987 and 16895 are as closely related to Walter as any other member of their generation, even though they have five off-modal marker values at the Y111 level, and the GD between them is 1@67.

No member of this 800 year old Stewart lineage whose GD from its mode is greater than 9@67 (about one mutation every 100 years) has been tested. 5603 (L745+) and one or two of his cousins have a GD of 7@67 from its mode. Erwin's (42048) GD from it is also 7@67. That he tested negative for SNP DF41, a mutation that is estimated to have occurred two or three millennia ago, shows how distantly related to this Stewart family he is. GD usually indicates how closely people are related, but not always.

Mutation rates are not completely predictable. The GD between over 7% of the members of this family (e.g., 110059, 179069, 181994, 183344, 214547, 235915 and 272860) and its mode is 0@67 (zero mutations every 800 years). Some of them belong to different branches of this lineage according to the genealogical evidence. "... sharing the haplogroup modal values with a family is of virtually no significance beyond the fact that you're related somewhere back in time" (Matthiesen).
---
Non-Modal Marker Values
Marker values that are not a family's most common are non-modal (a.k.a off-modal). Non-modal marker values help to determine who belongs to which branches of a family. Members of this Stewart family who have no non-modal marker values at the Y67 level have some at the Y111 level. None have tested 0@111 from its mode yet.

The mode of all descendants of the High Stewards of Scotland has the values 14-15-17-17 for DYS464. The ducal descendants of King Charles II have only ONE off-modal marker value for DYS464 in common, 14-15-16-17. That some members of the Kintyre branch have this non-modal marker value and some do not have it indicates that this mutation reversed itself, or that it occurred more than once (DYS464 mutates faster than most markers).

Testing the Y-DNA of the first tester's most distant genealogically traced patrilineal cousin helps to determine which mutation(s) occurred after their Y-MRCA was born, to which branch of the High Stewards of Scotland they belong, and whether or not an adoption occurred. E.g., 143035 and his known fourth cousin 199984 have three "branch" non-modal values in common: DYS459=9-9, DYS 449=30 and DYS 570=16. Their gggGrandfather Robert "Robin" STEWART (born ~1785) probably had all three of these mutations too. Any other descendant of the High Stewards who has all three of these mutations probably descends from Robin, or is closely related to him.

One (199984) of Robin's two tested gggGrandsons has CDY=36-37 and one (143035) has CDY=35-37 (this is one of the fastest mutating markers). Since CDY=36-37 is the modal value for all descendants of the High Stewards, Robin probably had that mutation too. If another descendant of Robin tests CDY=35-37 it would become a fourth branch marker (it would no longer be "private"). All descendants of Robin who have CDY=35-37 are probably closer kin to each other than they are to 199984. If CDY=35-37 is the only non-modal marker that 143035 has in common with another member of this Stewart family they are probably no closer kin to each other than they are to any other descendant of the High Stewards.

That 199984, 143035, 147822, 16895, and 5987 have ONE non-modal marker value (DYS 570=16) in common is evidence that they belong to the same branch of this family (genealogical research may prove otherwise). Based on a comparison of their non-modal marker values using standard parameters, there is a 50% probability that their common ancestor was born no longer than 300 years ago (about 1700) and a 95% probability that he was born no longer than 540 years ago (about 1470).

Pages 37 and 38 of Alex Williamson's Y111 R-L21 phylogenetic tree show how some descendants of the High Stewards of Scotland MAY be related to each other. Pages 103 and 104 of his Y67 tree include haplogroups R-L744, L745, and the following subgroup:
f_16895 Clancey R1b-P312>L21>DF13>DF41>L744>L745+ [41-744-Stu] USA
f_5987 Clancey R1b-P312>L21>DF13>DF41>L744>L745+ [41-744-Stu] USA
f_112839 Stewart zzL21suspect [41-744-Stu] Scotland
f_199984 Stewart zzL21suspect [41-744-Stu] Ireland
f_143035 Stewart R1b-P312>L21>DF13>DF41>L744>L745+ [41-744-Stu] Ireland
f_147822 Stuart R1b-P312>L21>DF13>DF41>L744>L745+ [41-744-Stu] Scotland
Knowing that 143035 and 147822 belong to the same branch of this family may help them to identify their common ancestor. If DYS458=16 is a branch (i.e., non-private) marker value for 147822, it would be evidence that he and 143035 belong to different branches of this family (143035 has DYS458=17).

Since DYS570=16 is the only branch marker value that 147822, 199984, 143035, 16895, 5987 and 112839 have in common at the Y111 level, the man who first had the DYS 570=16 branch mutation probably descends from a man who had no non-modal marker values, and the man who first had the DYS 449=30 branch mutation must be a descendant of the man who first had the DYS 570=16 branch mutation.

DYS459=9-9, DYS449=30 and DYS570=16 are the only branch marker values that fourth cousins 199984 and 143035 have in common at the Y67 level. More may be found if 199984 upgrades to the Y111 level.
---
After you click on the image below and then on pushpins on the interactive map that SLOWLY loads, the surnames of the y-MDKAs of some DF41 Cousins of the High Stewards are displayed.
.
Why are so few Continental Europeans shown on this map?
See http://groups.yahoo.com/group/ClanDF41/message/373.
---


Column # 4 ====>
Column # 4



Armorial used by Stuart monarchs in England after 1603
---
SNP Test Results
The video at https://www.youtube.com/watch?v=OtMS1rIbPc0 explains how the results of a $695 Big Y test can help us to precisely position each branch of our family on a phylogenetic tree! STR markers are more useful for determining how recent generations of a family are related to each other within genealogical times. A SNP test is a reliable way for you to identify your more distant patrilineal cousins, ancestors and anthropological origins. SNP test results are sometimes better indicators of recent ancestry than STR test results, e.g. read about Erwin # 42048 above.

A SNP is a single mutation in one base pair. "These changes are rare. Once they happen, they seldom change back ..." STR marker values mutate forwards and backwards more frequently so they are less reliable and more ambiguous sources of information than SNPs and other UEPs (unique-event polymorphisms).

We thank Dr. Thomas Krahn (6C3CZ & 64047 on page 3) for discovering SNPs R-L744 (A+), L746 (T+) and L745 (del+) via a Walk Through the Y (WTY) test of the DNA of the member of this Stewart family whose test results are displayed in David Reynolds' table where the L745 row and the 143035 column intersect. The GD between 143035 and 5603 is 11@67 (83.6%) and 13@111 (88.3%).

Next generation sequencing tests of members of this R-L745+ family may discover SNPs that help to divide it into branches. "Across the entire Y-chromosome DNA, a SNP occurs every one to two generations". According to expert Vince Tilroe, Big Y tests are likely to discover one Y-SNP per 4 to 6 generations. Full Y tests sequence more mega-bases so they are likely to discover one Y-SNP per 3 to 4 generations.

The mutation known as R-L744 probably occurred 800 or less years ago. ISOGG recently named this haplogroup R1b1a2a1a2c1i1. FTDNA still assigns people who test L744+ to haplogroup R1b1a2a1a1b4 (the YCC 2008 name for SNP R-L21).

According to the R1b-L21 tree shown at the bottom of this web page, SNPs L744, L745 & L746 are downsteam of DF41 (a mutation estimated to have occurred about 2300 years ago), DF13 and R-L21 (estimated to have occurred about 3500 years ago). Other interesting estimates of when some SNP mutations occurred are shown at the bottom of some of Williamson's trees.

ScotlandsDNA states: "Your marker, S145/R-L21 is present in small but statistically significant numbers in Western France and Spain. One of its most interesting concentrations is in Brittany. Formerly known as Armorica, part of the Roman province of Gaul, this region changed its name to mean 'Little Britain'. This happened because of a migration, an exodus from Southern England of Romano-British people who fled the Anglo-Saxon invasions of the 5th and 6th centuries. These were almost certainly aristocrats, landowners and townspeople of means, those with the most to lose and the ability to flee. They brought their marker with them and outside of Britain, S145 is most common in Brittany, Little Britain."

SNP tests have revealed how some R-L21 families are related to each other. You can determine to which branch of L21 you belong by finding your terminal SNP, e.g., by ordering a test for the terminal SNP of someone who matches you closely. If you test R-L21+ the friendly experts who participate in the R-L21 and DF41 Forums may tell you for which SNP (child of R-L21) to test next.

R-L744, L745 and/or L746 are currently the terminal SNPs of all members of this patrilineal family. Why find your terminal SNP and how?
---
How to Order An Individual SNP Test
You are not likely to test positive for SNPs R-L744, L745 and/or L746 unless:
One of your close matches has already done so.
Nearly all of your matches have the surname Stewart.
Your GD from the mode of this Stewart family is no greater than 9@67.
If you want to order one or more SNP tests:
Just go to your "myFTDNA" pages and click on "Order An Upgrade" in the upper right corner. Scroll down and click on Order an Advanced Test under the heading "Advanced Tests" (tests for recently discovered SNPs will eventually be added to the Order Advanced SNP Test menu).
On the next screen, click the drop-down menu on the "Test Type" box and choose "SNP". Then, in the "Marker" box, type the name of the SNP, e.g., L745. Click "Find". That SNP should come up, showing a $39 price. Click "Add". After you add all the SNPs you want to order, click on the little orange "Next" button hidden in the lower right corner and add shipping address, etc. information.
Members' SNP test results are posted on the Stuart family SNP web page and at the bottom of their Haplotree web pages.

If the administrators of other projects do not display their members' SNP test results, please ask them to read the article at this link.
---
Do Experts Ever Make Mistakes?
The International Society of Genetic Genealogy (ISOGG) mistakenly listed SNP R-L745 as being a child of L744 because a DNA testing company reported on 11/29/2011 that Webb (75703) tested L744+ (positive) and L745- (negative).

A descendant of the High Stewards (143035) immediately realized that Webb's SNP and STR test results were inconsistent, and asked that company to rerun Webb's SNP test. That company did so nearly two years later.

Laboratory director Connie Bormans, Ph.D. wrote: "The data was reviewed and we reran the sample in question. The rerun showed the sample was L745+, and the results have been changed accordingly." Webb can now be certain that he descends from the High Stewards therefore.
---


Column # 5 ====>
Column # 5



Banner of the Kings of Scotland and the Flag of Scotland
---
How Can We Help Each Other?
FTDNA recommends:
"Be as descriptive, but brief, in your e-mail request as possible. Make the case on why you need to share information. The more detailed it is, the more likely you will receive a reply. The more vague it is, the less likely you will.
If someone contacts you with a question you do not know the answer to, do not ignore the e-mail. Either reply that you do not know the answer, or if its a question related to the results and you need assistance to answer the question, contact Family Tree DNA's Customer Service.
Do NOT send a bulk e-mail to all of your matches. While more tedious, you will receive a better response rate if you take the time to individually address each match separately. One reason for this is because some customers use the same e-mail address on multiple kits and if you do not address the name you are contacting, they have no way of knowing which kit you are contacting them about."
Your matches and administrators may not be able to identify you or know what you are talking about unless your messages include your kit number and the URL of the web page or project that you want to discuss.

Those who upgrade to the Y67 and Y111 levels and make their test results public benefit all members of our family, not just themselves

.
Diana Gale Matthiesen stated: "Genealogy is like a jigsaw puzzle... If everyone hides their piece of the puzzle, none of us will get anywhere." Please do not make your test results and the name, etc. of your earliest genealogically traced patrilineal ancestor private.
A comparison of our pedigrees and DNA test results may help us to identify to which branch of this Stewart/Stuart family someone belongs even if he does not know the names of his biological parents. People with different surnames may be surprised to learn that they too are members of our historic Stewart family.
Genetic matches who provide their pedigrees and the names of their y-MDKAs are more likely to find genealogical connections. If you want this Stewart family to have Pedigree and Forum web pages like those of the Ards Peninsula Families DNA Project please tell the administrators of this project.
Help all Stewart and other genealogists to understand the benefits of genetic genealogy so that our Y-DNA database will grow. Share your Stewart lineage and DNA success stories by participating in genealogical forums, e.g., at http://genforum.genealogy.com/stewart/ and http://boards.rootsweb.com/surnames.stewart/mb.ashx. Encourage members of other families and strangers to have their DNA tested too. The more people have their DNA tested and the more advanced the technology, etc. becomes, the easier it will be for us to find our kinfolk.
All of the money that you donate to the General Fund of the Stuart project will be used to pay for any test that you want done, e.g., of the DNA of a Stewart from the village from which your patrilineal ancestor came. The person for whose DNA test you paid may not remove his results from the database or restrict access to them unless he repays you in full. This includes tests for which a group project paid. You may ask his local newspaper to advertise your offer and thereby encourage more interest in DNA testing.
Join the Stewart DNA Forum that is exclusively for members of this family (regardless of their surnames and gender) if you want to read or write comments, post pictures, vote about how money in this family's General Fund is spent, elect project administrators, etc.
Email an administrator of this project if you want more details about how to order and use your DNA sample collection kit.
Having children is the best thing that we can do to help the House of Stewart to survive. Without new generations everything else that we and our ancestors have worked so hard to accomplish is in vain. The more a family or nation neglects its own interests and the care and proper education of its own children, the longer it will last. "We are merely the present-day custodians of our Ancestors' genes."
Let's help each other to succeed, not fail.
---
This Stewart Project Is Unique.
This genetic genealogy project is a collaborative effort to answer genealogical questions using the results of DNA tests. Some of its goals are to:
Recruit as many patrilineal descendants of the High Stewards of Scotland as possible, no matter what their surnames and geographic locations may be
Help them to have their DNA tested for genealogical purposes by providing information and financial assistance.
Use their test results and pedigrees to determine exactly how they are related to each other and to which branches of this lineage they belong
Make their DNA test results more understandable and meaningful. The failure to do this is the most common complaint from the customers of DNA testing companies. Reading I Have the Results of My Genetic Genealogy Test, Now What? may help.
Serve their needs as a genetic family and to promote their interests, solidarity and pride in any way that we can.
We thank those who joined this project. The better our leaders are, the more successful our efforts will be. Please help us to choose the best. Volunteers, suggestions and criticism are welcome.
---
Click on a DF41 Tree below, then a 2nd click to enlarge it.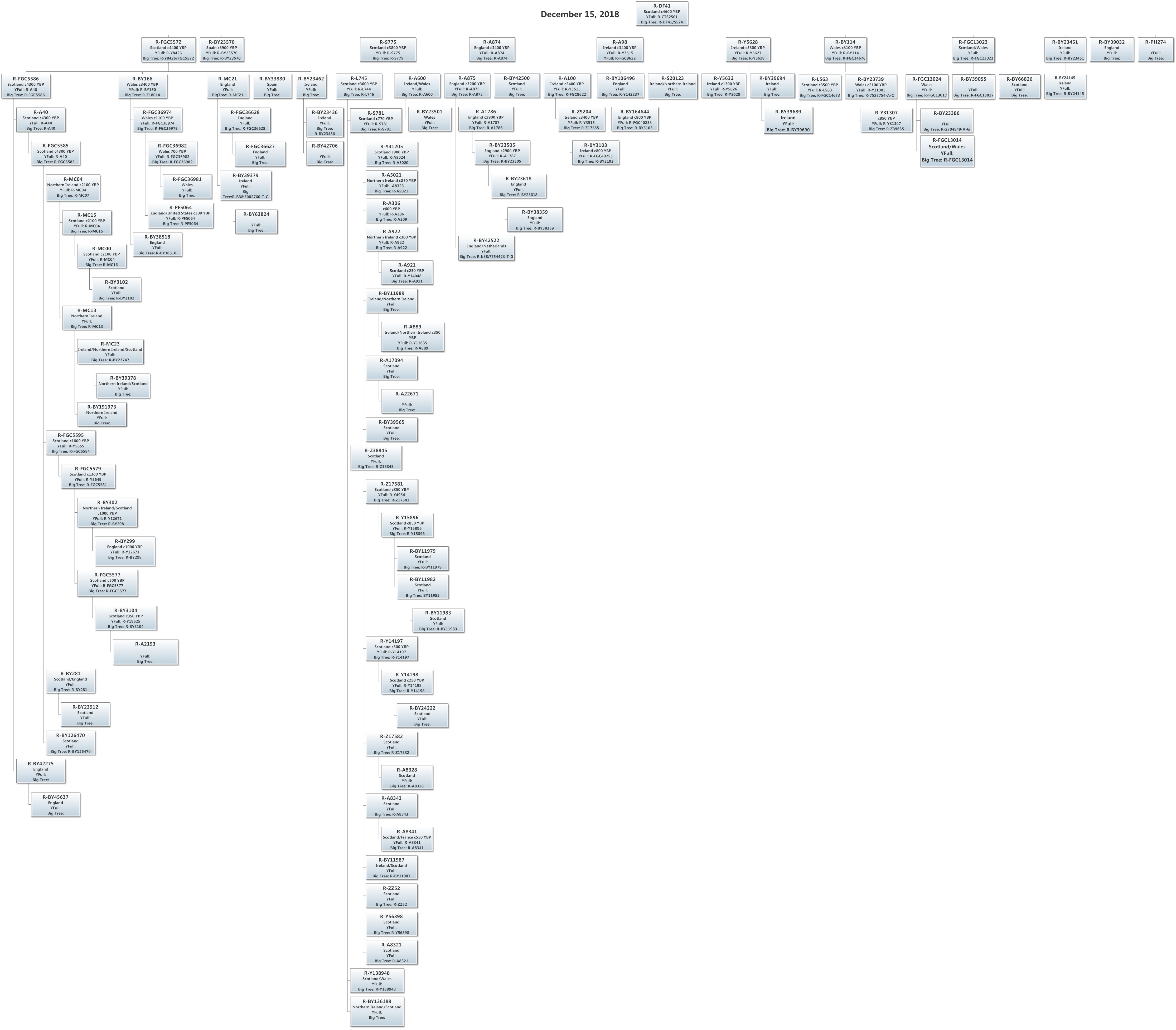 ---


Column # 6 ====>
Column # 6



Stewart Tartan and armorial used by Stuart monarchs in Scotland before 1603.
---
Reputed Lineage of the Stewart Monarchs of Scotland
---
Patrilineal lineage of the Stuart Monarchs of England
Timeline of Scottish Monarchs
Celtic Kingdoms of the British Isles
Book about the origins, etc. of the Stewarts of Appin
Video about the Scots-Irish based on Senator James WEBB's book, Born Fighting.
---

Column # 7 ====>
Column # 7


The British Before Their SECOND Holocaust™
and After Their FIRST Holocaust™ (read columns #10 & 16)
---
Historical Timeline
Semites (Haplogroup J) may have arrived in Britain during the Roman occupation. 1st and 2nd century AD Imperial authorities viewed Catholicism as Judaism, a protected religion (Roman persecution of Catholics is exaggerated).
54AD Claudius completely forbade Druid rites.
66AD rebellion in Judea - Jews temporarily lost protected status.
80AD The Roman general Julius Agricola invaded Scotland (a.k.a. Caledonia or Albion).
121 - 129AD Roman Emperor Hadrian's coast-to-coast Wall was built in six years.
380 Theodosius I made Catholicism the official state religion of the Roman Empire and suppressed heresy and paganism.
409 The Roman occupation of Britain ended.
5th century - The Roman Empire collapsed. Polytheistic Anglo-Saxon Germans invaded Great Britain and dispossessed the British except where Celtic nations still exist, e.g., in Wales, etc. Many Bretons fled to Brittany.
646 Semitic Arabs (Haplogroup J) began their conquest of northern Africa and its indigenous Berbers.
686 Isle of Wight was the last part of England to succumb to Catholicism. Its inhabitants reverted to paganism after Wulfhere of Mercia converted them at sword point.
800 - 900s Vikings raided Scotland.
995 Olaf I of Norway forcibly Judeo-Christianised the Orkney Islanders.
1005 King Malcolm II ruled Scotland and defeated the Vikings at the Battle of Mortlach.
1034 - 1040 King Duncan I (killed in battle).
1040 - 1057 Gaelic speaking King Macbeth was killed during an English invasion by Malcolm III (son of Duncan I).
1066 Guillaume le Bâtard conquered England, brought over hundreds of Jews for financial reasons, and instituted a feudal system.
1218 England became the first European nation to require Jews to wear a marking badge.
1241 Moguls attacked Poland and other Baltic states. "Mongul campaigns may have resulted in the deaths of 40 million people."
1282 - 1307 Edward I conquered Wales and Scotland, confiscated the Scottish coronation stone, and expelled Jews.
1297 William Wallace led the Scottish war of Independence.
1305 William_Wallace was betrayed, delivered to Edward I, stripped naked and dragged through London at the heels of a horse, strangled by hanging but released while he was still alive, castrated, eviscerated and his bowels burnt before him, beheaded, then cut into parts that were displayed separately in various parts of England.
1306 Robert the Bruce was crowned King.
1314 Battle_of_Bannockburn - Robert the Bruce defeated the English and gained Scottish independence.
1349 - 1666 Bubonic plague ravaged Britain.
1371 The first Stewart King, Robert II, took the throne.
1387 Northern Crusaders imposed Catholicism on Lithuania (the largest state in Europe at that time).
1513 James IV was killed at the Battle of Flodden.
1535 England annexed Wales.
1559 The Reformation in Scotland began with John Knox's sermon at Perth: "Every kingdom divided against itself is brought to desolation..." His mobs destroyed all but a few of Scotland's royal tombs.
1561 Mary Queen of Scots returned to Scotland from France.
1567 Mary Queen of Scots's second husband Henry Stuart, a.k.a. "Lord Darnley", was murdered.
1568 Elizabeth I imprisoned Mary Queen of Scots after she fled to England.
1587 Elizabeth I had Mary Queen of Scots beheaded at Fotheringay Castle (later demolished by her grandson despite its size and importance).
1600 Catholics incinerated Giordano Bruno for proposing that the sun is a star, and that intelligent beings populate other worlds.
1603 Mary's Presbyterian son James VI of Scotland became James I of England and united the Crowns.
1607 The first permanent English settlement in what is now the USA was named after King James I of England.
1633 Catholics silenced and incarcerated Galileo Galilei (1564 – 1642) for writing that the earth orbits the sun.
1642–1651 English Civil War(s) and video about Oliver Cromwell.
1649 Parliament beheaded Charles I.
1656 Oliver Cromwell invited Jews to England for financial reasons despite the laws and the opposition of the clergy and merchants.
1657 England annexed Scotland.
1683 The Battle of Vienna thwarted the expansion of the Islamic Empire into Europe.
1688 Jews helped William III depose James II of England, and transferred Europe's financial center from Amsterdam to London.
1692 Massacre of Glencoe - The Campbells massacred the MacDonald clan.
1707 Threatened with trade sanctions, etc. and contrary to the wishes of the deposed monarch and the Scottish people, Scotland became part of the English Empire. "We were bought and sold for English Gold." Robert Burns.
1746 Battle of Culloden - Jews helped to defeat the Jacobite Scots - Charles Edward Stuart fled to France.
1776 Thirteen North American colonies seceded from the English Empire.
1800 Ireland became part of the English Empire, achieved in part according to contemporary documents through bribery.
1815 Napoléon lost the Battle of Waterloo.
1819 The Strathnaver Clearances began on the Sutherland estates - families were given 30 minutes to remove their belongings before their cottages were set on fire.
1845-52 Irish Potato Famine. Millions of Irish starved or emigrated elsewhere.
1861 South Carolina's plutocratic government attacked Fort Sumpter and began a fratricidal war that killed a quarter of its males and half of its enlisted men (less than 5% of whom were slave owners).
19th century Inquisition and Witch Trials ended.
1914 England and its global empire declared war on Germany because it defended Austria against the Russian Empire.
1919 Ireland seceded from the English Empire.
1939 Reds conquered Poland. Germany took some of its territory back from Poland so the English and French Empires declared war on Germany again.
1940 Germany did not want to fight so England began bombing Germany. Germany refused to retaliate for five months.
1956 "... Scotland is the only European country which has no history of state persecution of Jews." Jewish-Scottish scholar David Daiches.
1999 Scottish Parliament held session for the first time since its adjournment in 1707.
---

Column # 8 ====>
Column # 8


If you have high speed Internet access you may listen to refreshing music while you read (includes an ad):
---
An Educational Gift
"Down almost to within the memory of living men, education, even in its most rudimentary form, was a felony in Ireland, on the correct principle that the most effective method of subjugating and despoiling a people is to keep them in enforced ignorance."

The history of our ancestors is written in our genes. Correctly interpreted, it is the greatest story ever told. No forensic evidence is more scientific and trustworthy than the results of a DNA test.

"We believe the first step to unearthing your personal and family history is to better understand your DNA". Bennett Greenspan, the first to develop the commercial application of DNA testing for genealogical purposes.

"The accessibility and affordability of family DNA testing is doubtless the greatest technical advance in the history of genealogical research because -- at long, long last -- we have a tool to break down those brick walls!" Matthiesen

The results of your DNA tests are a gift to all of your cousins, etc. Families and nations that are aware and proud of their ancestry and history, e.g. the Israelites, are more likely to nourish and educate their children well enough for them to become intelligent adults who respect each other and their ethnic boundaries and identity, pass their genes on to the next generation, and contribute to the security, prosperity, survival and scientific and technological progress of their nation.

Israelite Lisa Alcalay Klug wrote: "... I can only be encouraged that perhaps we are seeing the dawn of a new age for our people, an age of greater self-awareness and pride. For me, this means delving even deeper into my heritage in an effort to understand not only who I am, but for what purpose I exist. The meaning of my life certainly is rooted in this rich and fertile ground." Similar genealogical feelings may have motivated Greenspan and Wojcicki (the FDA outlawed some aspects of her business).
---
The Exciting Future of Genetic Genealogy

Column # 9 ====>
Column # 9


Who Were the First Farmers?
This web page proposes that the ancestors of Northern Europeans, e.g., Celts, were the first farmers, and that they may have begun to emigrate from the Sahel to the Fertile Crescent during the Last Glacial Maximum (LGM), and into Europe after the end of the last glacial period.

Where did all Indo-European languages originate? "... southern Turkey, as the most plausible origin — a region that had also been proposed as the origin of Indo-European by the archaeologist Colin Renfrew, in 1987, because it was the source from which agriculture spread to Europe.

Balaresque et al. state: "The relative contributions to modern European populations of Paleolithic hunter-gatherers and Neolithic farmers from the Near East have been intensely debated. Haplogroup R1b1b2 (R-M269) is the commonest European Y-chromosomal lineage, increasing in frequency from east to west, and carried by 110 million European men... The distribution of this lineage, the diversity within it, and estimates of its age all suggest that it spread with farming from the Near East. Taken with evidence on the origins of other lineages, this indicates that most European Y chromosomes descend from Near Eastern farmers... Previous studies suggested a Paleolithic origin, but here we show that the geographical distribution of its microsatellite diversity is best explained by spread from a single source in the Near East via Anatolia during the Neolithic ... in contrast, most maternal lineages descend from hunter-gatherers ..." i.e. most Europeans have Crô-Magnon mitochondrial DNA.

According to this Wikipedia article about haplogroup (HG) R1b1a2 (a.k.a. R-M269), "the distribution of R1b STR variance in Europe forms a cline from east to west, which is more consistent with an entry into Europe from Western Asia with the spread of farming... "The frequency is about 71% in Scotland, 70% in Spain and 60% in France. In south-eastern England the frequency of this clade is about 70%; in parts of the rest of north and western England, Spain, Portugal, Wales and Ireland, it is as high as 90%; and in parts of north-western Ireland it reaches 98%."

Wolfgang Haak, a geneticist at the University of Adelaide, and co-first author of the new study, observes: "The first farmers, whether from Hungary, Germany or Spain, are genetically almost identical: they are from the same origin."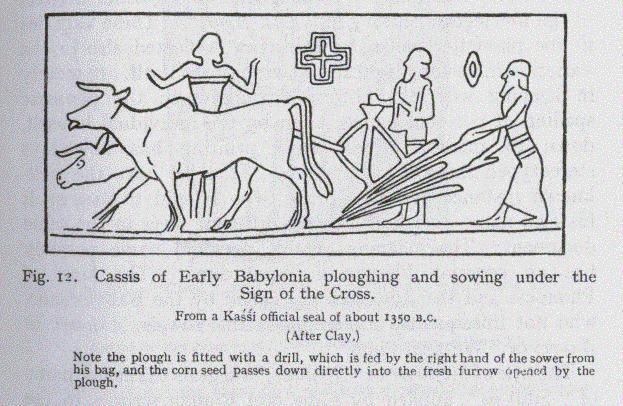 Image # 1 above from a 1350 BC seal shows gangly Fertile Crescent farmers with the physical characteristics of Northern Europeans, not those of Crô-Magnon hunter-gatherers and Semitic herdsmen. If you want more evidence, click on the picture and read the book from which it came. The oval in the sky symbolizes the moon, which regulated plantings. The cross represents the Sun, a Celtic symbol for Life and God (Abrahamic faiths repurposed Celtic holidays too, e.g., Easter).
---
We inherit our mitochondrial (mtDNA) only from our matrilineal ancestors. "... the immigrant Neolithic component is likely to comprise less than one-quarter of the mtDNA pool of modern Europeans". The R1b1 farmers who contributed to the aforesaid "immigrant Neolithic component" belonged to mtDNA haplogroups J and T, etc. before herdsmen drove them from the Fertile Crescent into their present Indo-European homelands in Europe and Central Asia (e.g., the Pontic-Caspian steppe and Scythia). HG T is currently found with high concentrations in northwestern Europe, e.g., around the eastern Baltic Sea).

Haplogroups T and J descend from JT, pre-JT, R (89% of Europeans), N, L3, L1-6, and L, i.e., "Mitochondrial Eve". SNP mutations occurred in the matrilineal lineage of women who belong to MtDNA haplogroup T at an average rate of once every 20 or 25 thousand years if the mutation known as L occurred between 150–200 KY ago). At this rate the mutation called JT may have occurred about 40-50 KY ago. The mutation called T may have occurred 20-25 KY ago, i.e., during the LGM.

The reason that the descendants of the Neolithic farmers who settled in Scandinavia look different from those that settled in southern Europe is that the LGM drove the mixed descendants of Crô-Magnons and Neanderthals out of northern Europe.

After the Holocene began, starvation, marauding shepherds, acute periods of desiccation during the interglacial known as the Holocene motivated some fur or wool clad Neolithic farmers to adopt a hunter-gatherer lifestyle and to immigrate from the Fertile Crescent into the abandoned forests of northern Europe from which Crô-Magnons had been racially cleansed by the LGM.

The well armed and organized southern European farmers who immigrated from the Fertile Crescent after southern Europe warmed up enough for farming settled near the Mediterranean, e.g., in Ancient Greece. Since these Neolithic farmers took the land and women of the descendants of Crô-Magnons and Neanderthals, their descendants inherited the natives' adaptations to the cold and dark forests of Ice Age Europe, i.e., squatty and hairy bodies, brachycephalic heads, and brown hair and olive skin that absorbs the heat of the sun and provides better camouflage in a forest.

According to Geno 2.0 and this PBS video, Southern Europeans ("the Mediterranean component"?) have more Neanderthal DNA than Northern Europeans, and the bulky Neanderthals had blue eyes and fair skin and hair. Should Northern Europeans therefore be less likely than Southern Europeans to have blue eyes? Does Spencer Wells know that the last Neanderthal died about 30 KY ago (before the mutation(s) that causes blue eyes occurred)?

Northern Europeans have less Neanderthal DNA because their Neolithic ancestors did not enter Europe until nearly 20 KY after the last Neanderthal died. Southern Europeans have more Neanderthal DNA because their Crô-Magnon ancestors began to mate with the Neanderthals they had not eaten before the LGM racially cleansed Northern Europe.

Although depicted as blue-eyed and fair-skinned by media propagandists, the need for camouflage and to absorb and preserve heat must have caused the cold adapted pure-blooded Crô-Magnons to have skins that were darker and hairier than those of the people of southern Italy today.

The blue blood farmers that settled in southern Europe and their possible Crô-Magnon laborers practiced apartheid for thousands of years before they began to interbreed with each other. Their mixed descendants became the race whose less civilized behavior caused the decline of the Greek and Roman Empires.
---
Column # 10 ====>
Column # 10
Why Did Neolithic Farmers Invade Europe?
Linguistic evidence shows that farmers who spoke Indo-European languages had an aristocracy and priests, and lived in an environment like pre-historic Palestine's, where farmers had stone and metal tools, dogs, ducks, geese, goats, pigs and later horses, plowed with oxen, and cultivated grains like barley, wheat, oats, etc. (which grew wild there).
Image # 2 - All Indo-European languages and the first farmers came from this area. The places where Kassite Babylonia, Hamitic Egypt, Mitanni and Hatti existed thousands of years ago are now linquistically, religiously, and demographically different from what they once were.

The Western Atlantic Modal Haplotype (M269, R1b1a2) is still frequent in southwest Asia. If Hyksos, etc. herdsmen from the Arabian subcontinent had not routed, enslaved, exterminated and supplanted so much of its indigenous population, would the nations of the Fertile Crescent still have Indo-European religions, speak Indo-Hittite languages and look more like the Irish (81.5% R1b) and Scots (77.1% R1b, 11.2% I)?

"Historically nomadic herder lifestyles have led to warrior-based cultures that have made them fearsome enemies of settled people." "Some nomadic peoples, especially herders, may also move to raid settled communities ..." "This lifestyle ... is possibly associated with the appearance of Semitic languages in the region of the Ancient Near East." "The nomadic lifestyle was well suited to warfare, and the steppe horse riders became some of the most militarily potent peoples in the world".

According to the Jewish historian Josephus and the Judeo-Christian Bible, hundreds of thousands of Hebrew nomads from the Sumerian city of Ur of the Chaldees were expelled from Egypt by Ahmose I (died ~1557 BC). These Hebrew shepherds conquered the Jebusite Amorites of Jerusalem about 1000 BC. "The land of the Aryans" (a.k.a. Iran) conquered Babylon and allowed Hebrews to return to Jerusalem circa 538 BC.

Hyksos herdsmen may have looked like the current population of the Fertile Crescent, e.g., Yemenite (82.3% J and 16.2% E1b1b) and Israeli Arabs (55.2% J, 20.3% E1b1b, and 16.1% R & I). Semites emigrated from eastern Africa to the southern Arabian peninsula by crossing the Red Sea according to Spencer Wells. Is their skin color darker because their ancestors evolved for so long in the forests of Ethiopia (see the map below)? Many Europeans, e.g., Napoléon, Hitler and Einstein, and most of the people who now live in north Africa and the Sahel belong to Y-haplogroup E1b1b.
Image # 3 - HG J is found in greatest concentration in the Southwestern Arabian Peninsula.
The Unger's Bible Dictionary (1957) explanation of why Phoenicians are considered Semitic by anthropologists and ethnologists is that Phoenicians "must have succumbed to the pressure of racial and linguistic intermixture with Semites with the loss of their own ethnic predominance " because Canaan "was like a bridge between Egypt and great Semitic empires". Are the Amorites and other Hamitic farming nations of Canaan called Semitic despite genetic, biblical, etc. evidence to the contrary because their Indo-Hittite speaking ancestors had to adopt a Semitic written language?

Semites contributed relatively little DNA to the gene pools of the parts of Eurasia and northern Africa that they conquered during the seventh century in the name of Islam, an Abrahamic religion.

Image # 4
---

Column # 11 ====>
Column # 11
Why Did Neolithic Civilization Begin?
During the LGM survival was difficult in northern Europe due to the cold, and in the Sahel because of drought (the colder the oceans became the less evaporation and rainfall there was). The only part of Central Africa where Sahelians could survive the LGM may have been near lakes, e.g., Lake Chad. Did hungry Sahelians who belonged to patrilineal haplogroups I and R1b1 attempt to walk across the vast Sahara via the Nile valley because they were outnumbered by people who lived in Africa's equatorial rain forest thousands of kilometers to the south?

Hunter gatherers from the central Sahel who made it across the Sahara during the LGM crossed the Sinai penninsula and continued their search for a better homeland in Eurasia. They were so outnumbered that they had to avoid the territorial Crô-Magnons to the west and Mongoloids to the east. Those that became the ancestors of aboriginal R1b1 Americans and Kennewick Man traveled so far northeastwards in search of game during a spell of unusually mild weather that they fortuitously became the first non-Neanderthal people to cross the Bering Strait. See Image # 14 in column # 13 below.

Did some hunter gatherers from the central Sahel who belonged to patrilineal haplogroups I and R1b1 remain stranded in the game poor forests of the arid Levant because races that had left Africa tens of thousands of years earlier outnumbered them elsewhere?

E.g., Mongoloids left the Sahel about 70,000 years ago (during an interstadial) and conquered the habitable parts of Eastern Asia. At that time Neanderthals had occupied Europe for hundreds of thousands of years and were too numerous to conquer. For Mongoloids to drive Australoids who had been devastated by an apocalyptic supervolcanic eruption to the fringes of Asia was easier.

Some hunter gatherers who belonged to haplogroups I and R1b1 remained in the Levant and began the Kebaran culture about 18,000 BC (not long after the R1b1 and I mutations occurred). Was there so little game in the Fertile Crescent that in order to feed their hungry children mothers had to painstakingly harvest by hand the seeds of the native grasses, e.g., barley and wheat, that grew wild there? Domesticating the plants, people and other animals that made the Natufian culture possible took Hamites thousands of years.

Image # 5 shows the spread of Natufian culture.
Did each patrilineal clan, clade or HG from the Sahel settle in a different part of the forests of Lebanon, live for thousands of years in relative peace within the secure boundaries of its own independent territory, and become one of about thirteen independent nations that spoke its own version of the Indo-Hittite language? Did these HG R1b1 and I farmers belong to about thirteen ill-fated Hamitic nations, descendants of the cursed children of Ham (the so-called youngest son of Noah) according to the Judeo-Christian Bible? Did most of these Neolithic farmers eventually flee from the Fertile Crescent because herdsmen, e.g., the Semitic Hyksos, terrorized, preyed upon and eventually conquered, enslaved and forced them to adopt Semitic languages? Does this explain why some scientists, Wikipedia and others misrepresent them as being Semitic?

Might some of these farmers have adopted a hunter gatherer lifestyle and spread via demic diffusion into the forests of northern Europe about ten KYA (Thousand Years Ago) in order to avoid both droughts and herdsmen?

Domesticated farmers could not settle on the grassy steppes of Central Asia and compete with savages like Ghengis Khan until they had better weapons. Did herdsmen plague farmers until they found refuge in the dense forests of Europe (cattle starve in a forest)?

The land and investments of farmers must be secure in order for them to grow crops of wheat and barley for their hungry children to eat. Their civilization could not have begun or survived in an area dominated by herdsmen, e.g., Central Asia and the Arabian pennisula. Would farmers rather adopt a nomadic lifestyle than to allow their families to be regularly raided, robbed, raped, murdered and terrorized by herdsmen on horseback?

After its part of the Fertile Crescent was conquered by herdsmen each civilized nation settled in a different part of Eurasia. Southern Europe warmed enough for farming first. Neolithic farmers occupied all of Eurasia except the homelands of the Mongoloid nations after they developed the weapons they needed to defend themselves.
Image # 6 above shows the location of each branch of the Indo-European language, and the diaspora of the terrorized Fertile Crescent farmers who fled in their ox drawn wagons to the verdant parts of non-Mongoloid Eurasia (the LGM had depopulated most of it). Would farmers who were less familiar with the vast Sahara desert than Sahelians, and who knew nothing about what lay to the south of it, have risked the lives of their families by trying to migrate back to the overpopulated Sahel and rain forests of equatorial Africa?
---

Column # 12 ====>
Column # 12
Back Migrations?
Sahelian hunter gatherers who were familiar with the Sahara and its sources of water may have migrated back and forth across it in every direction for over a hundred thousand years, and been part of the gene pool from which all Eurasian Haplogroups originated. Back migrations of hunter-gatherers from the relatively verdant parts of Eurasia to sub-Saharan Africa make no sense. The "back migration" hypotheses is not the only possible explanation for why the Ouldeme (95.5% R1b+) and Hausa are indigenous to sub-Saharan Africa. "The second hypothesis, an African origin of the M9 superclade that includes haplotype 117, would imply a subsequent impressive extinction of derivative lineages in sub-Saharan Africa, since no other haplotypes carrying the M9 mutation (haplogroups VII–X) have been observed in this region (the only exception being represented by a few haplotype 109 chromosomes found in the Fulbe from Cameroon)." That "impressive extinctions" and migrations of the inhabitants of the Sahel did occur is indisputable.

The LGM did not erase all evidence of the Sahelian origins of all M9 haplogroups. Images # 7 & 8 below show that some people who belong to Haplogroup R still live in Africa. The lower right corner of image # 15 below shows that Y-haplogroups K*, K1, K2, K3, K4, L, M, NO*, N, 0, P*, Q, R, S and T descend from M9.

Image # 7

Image # 8 - Did Haplogroups I and R remain in the Sahel until the LGM began? See other images below.
---
Image # 9
Long-lasting droughts may have eliminated the food supply of some families and motivated them to leave the Sahel (possibly after the end of the Eemian, over 100 KY ago). These droughts may have wiped out African Y and mitochondrial haplogroups and derivative lineages that now exist only in Eurasia. Is the genetic diversity of the R1b1 clade so small compared to others because it was the last clade to experience one of these impressive extinctions, i.e., genetic bottlenecks?

The severest drought occurred:

1) During the LGM, when Crô-Magnon hunter gatherers shivered near the southern coasts of Europe, and the clades to which the first farmers belonged may have left the Sahel. The Persian Gulf was above sea level, and permafrost extended to the northern coast of the Mediterranean Sea.

Image # 10
2) ~40 - 50 KY ago, when the founders of the Crô-Magnon race may have left the Sahel. Crô-Magnons migrated from Africa to Europe because other parts of Eurasia had already been over-populated by anatomically modern humans, and at a time when Europe's warmer climate made Neanderthals less competitive. Evidence that Neanderthals survived in America after they died out in Europe may eventually be found.

3) ~70 KY ago, when the founders of the Mongoloid race may have left the Sahel.

4) After the end of the Eemian, when the founders of the Australoid race may have left the Sahel.

Why did the people who left the Sahel travel across the Sahara instead of south? Might the occupants of Africa's equatorial rain forests have objected?

If the ancestors of Australoids left Africa first, why didn't they populate Europe? Might Neanderthals have objected?

If the ancestors of Australoids left Africa first, why don't they live where the Mongoloid population lives today? Could the ancestors of the Mongoloids have taken the Australoids' land if the supervolcanic eruption at Lake Toba in Sumatra had not occurred an estimated 69,000 to 77,000 years ago?

"Haplogroup C4 (M347) is the most common haplogroup among indigenous Australians, and it has not been found outside of that continent."

"It is believed that the remnant Australoid populations in Southeast Asia were essentially replaced or assimilated by the southern Mongoloid migration (BELLWOOD 1985), whereas the major Australoid populations in Australia and New Guinea were relatively unaffected by the second migration (TURNER 1987). Assuming that these interpretations are correct, we anticipate that Southeast Asia may be a clinal zone between the Australoid (south and east) and Mongoloid (north and west) genotypes."
---

Column # 13 ====>
Column # 13

Image # 12 - This "Out of Africa" phylogenetic tree shows which haplogroups may have died out in Africa or survived only elsewhere.
During the last hundred thousand year-long glacial period at least four severe desert expansions may have motivated a few determined CT+ families to abandon their beloved tribes and the Sahel, the region from which all pre-historic hunter-gatherers left Africa, e.g., by crossing the Sahara (a coast-to-coast desert that is larger than the USA) via the 4,000 mile long Nile river. Some of the y-haplogroup(s) to which their descendants belong may have died out in Africa. Others still exist both within and outside of Africa, e.g., R1b1 and T.

Hunter gatherers that survived the months-long walk from the Sahel to the Mediterranean were probably capable of scouting Eurasia. Scouts seen on the territory of another race might be considered spies and killed or enslaved if caught (no nation had civilized itself yet). Those who left Africa during the Sahel's earlier droughts were more likely to discover Eurasia's best unoccupied or conquerable hunting grounds (and to fully populate them before refugees from droughts that occurred tens of thousands of years later could drive them out).
Image # 13 above shows that families of hunter-gatherers from Central Africa would reach fresh water and the forested areas of Lebanon more quickly by traveling north via the Nile river than east across Semitic territory, shark infested salt water and the Arabian desert.

Some of the R1b1 hunter-gatherers who left Africa during the LGM (the part of the last glacial period when the Sahel was at its coldest and driest) may have stayed in the Fertile Crescent because other habitable parts of Eurasia had been completely populated by other territorial hunter-gatherers tens of thousands of years earlier. If the forests of Lebanon were too small to sustain hunter-gatherers and not grassy enough to sustain the herds of Harifian pastoralists, they may have been vacant when the ancestors of R1b1 farmers settled there ~18 KY ago.

Some of the aforesaid R1b1 hunter-gatherers may have bypassed the Mongoloid population of East Asia and crossed the Bering Strait. If a meteorite storm had not killed so many R1b1 native Americans about 12,900 years ago could Mongoloid hunter-gatherers have driven them eastwards about 9 KY ago?


Image # 14 - Is R the only Y-haplogroup that has been indigenous to every continent except Australia for almost 20 KY?

Scientists are still trying to interpret some of the evidence, e.g., FTDNA's Chief Scientist, "Dr. Michael Hammer at the University of Arizona reanalyzed the haplogroup A tree and root with the new information available, and his new ages are even more amazing. Cruciani's A1b/A0 sample is now at 200,000 years old and A00 is at 338,000, with a 98% confidence level..." The A00 participants (N64496 & 215865) descend from Albert Perry, a slave who lived in SC in Chester and York counties. In other words, the Most Recent Common Ancestor (MRCA) of everyone who is alive today lived at least 338,000 years ago.

Nevertheless, politically correct propagandist Spencer Wells et al. recently proclaimed that the time to the most recent common ancestral Y chromosome of all mankind was only 50,000 years. He has since backed off a little, and now claims that the ancestors of ALL Eurasian races left Africa at the same time by crossing the Red Sea "more than 60,000 years ago" (contrary to the multiple dispersal model).
Click on Image # 15 above for good explanations of the locations, etc. of the clades listed. M9 and M207 (HG R) are shown in the lower right part of the image above. Haplogroups R and T still exist in or about the Sahel. Other M9, etc. clades might still exist there too if droughts and bad luck had not wiped them out.

Y-haplogroup R is shown in the lower right part of the haplotree below. It shows older and newer estimates of how long ago HG R, etc. mutations may have occurred. Better estimates will be available after academic papers in the works are published. The mutation named CF may have occurred over 100,000 years ago.
Image # 16
Click here for a forum about Genetic Genealogy, etc.
---

Column # 14 ====>
Column # 14
Did Celts Build Stonehedge?
A significant part of Europe was once Celtic. Only six Celtic nations, e.g., Wales, have survived. Some want their promised land back.

Image # 17
"Brittany stands out in the distribution of menhirs by virtue of both the density of monuments and the diversity of types. The largest surviving menhir in the world is located in Locmariaquer, Brittany, and is known as the Grand Menhir Brisé (Great Broken Menhir). Once nearly 20 meters high, today, it lies fractured into four pieces, but would have weighed near 330 tons when intact. It is placed third after the Thunder Stone in St. Petersburg and the Western Stone in the Western Wall as the heaviest object moved by humans without powered machinery."

Dolmens and menhirs (French, from Middle Breton: men, stone + hir, long) are the cultural signatures of Celts. They are found mostly in the parts of north western Europe where Celts lived. The largest concentrations of these monuments outside of Europe are in Israel, Syria and Western Jordan (where they and possibly bones that contain the DNA of Celts are being deliberately destroyed according to this video).

Herdsmen started to prey upon farmers soon after they began to produce food, etc. and eventually conquered Mesopotamia and the rest of civilizaton in the Fertile Crescent. The terrified farmers who escaped from them with their lives brought to the forests of southern Europe their seeds, domesticated animals, knowledge of how to clear farmland, dig dirt, grow food, make leather ropes, and the other simple technologies that their ancestors had used to build the huge stone monuments of the Fertile Crescent.

Did European Celts erect menhirs in order to honor their ancestors and to carry on their Fertile Crescent religions, traditions and science, and so that their descendants and the world would never forget whence their civilization came? The small Crô-Magnon hunter gatherer population that survived the LGM for about ten thousand years in southern Europe had never seen anything like it.

The Stonehedge experts shown in this PBS video wonder how neolithic farmers moved megaliths that weighed hundreds of tons for such great distances. Some thought that its builders slid them over logs. None mentioned the common sense solution of moving menhirs by rolling them sideways. NASA's engineers could have told them that a menhir will roll sideways downhill like a wheel if pushed hard enough, possibly with the help of a lever.

Were the huge stones of the Fertile Crescent and northern Africa rolled to their destinations? If braided leather ropes were wrapped around it, teams of oxen and/or men could pull even a rectangular menhir up a slope or to the top of a narrow ramp where it could be rotated 90 degrees and its base pivoted into a hole below the end of the ramp. Menhirs could have been rolled over a couple of rails made from the trunks of trees that had to be cleared from their path. Rails placed close together near the center of gravity of a menhir would stabilize it and make changing its direction and wrapping heavy ropes around and around both of its ends easier. Menhirs, etc. could be squared up for building purposes at their final destinations.
Image # 18 above shows how leather ropes could be wrapped around a menhir so that a couple teams of oxen and/or men could roll it over a rail made of tree trunks.

Did the ancestors of Celtic farmers erect menhirs before they left the Sahel? Since Neolithic times, the climate of North Africa has become drier. A reminder of the desertification of the area is provided by megalithic remains, which occur in a great variety of forms and in vast numbers in presently arid and uninhabitable wastelands: cairns (kerkour), dolmens and circles like Stonehenge, underground cells excavated in rock, barrows topped with huge slabs, and step pyramid-like mounds".

Did Celts' Sahelian ancestors domesticate animals, e.g., elephants and deer, and use them to pull loads, e.g., as the Sami and circuses have?
---
Survival of the Fitest?
The more compassionate, civilized, trusting and realistic an ethnic group is, the more prosperous and scientifically and technologically advanced (and the less capable of competing with savage imperialists, exploiters, genocidal racists, and criminogenic gene pools) it is likely to be.
"... evolution produces new species through splitting ancestral populations of organisms into new groups that cannot or will not interbreed." Natural selection and indiscriminate breeding enhances the survival instincts of ANY subspecies and makes it more competitive. Only artificial selection and the selective breeding of plants and animals, e.g., dogs, can create a new subspecies that is more beneficial and less dangerous to people (and usually less intelligent).

The statistics of the Federal and other governments show that the crime rates of the descendants of the world's first farmers are comparatively low and that their neighborhoods are usually safer. Otherwise their ancestors could not have created the first civilization long before current forms of government, religious and secular media, schools and other methods of social engineering and control existed. High rates of crime undermine civilization by making it less prosperous and therefore less scientifically and technologically advanced (and less attractive to immigrants from the third world therefore).

By 11,000 BC the Natufian descendants of Sahelians had domesticated many of the plants and animals upon which the survival of civlization depends, and possibly their own gene pool by removing criminals from it.

Geno 2.0 claims that only a "tiny fraction of the total genome" sets our bodies apart from those of other animals. Which part of it made it possible for Celts to become a relatively compassionate, virtuous, law-abiding, secure, civilized and beautiful nation that enjoys a standard of living that is high enough to attract immigrants from the third world?

Click here to read a different theory about the origins of HG I.
---

Column # 15 ====>
Column # 15
What Do Celts' Racial Characteristics Reveal?
The ancestral lineages of any species are found at different frequencies in different populations. Some are specific to a certain region while others are more widespread. Being aware of the mitochondrial and Y haplogroups to which people of your ancestry belong and what their physical, etc. characteristics are makes it possible for you to discover where their descendants are found today, and to understand their evolutionary history and geographic origins.

There is no evidence that the HG R1b1 and HG I ancestors of Northern Europeans ever had dark colored skin. Geno 2.0's web pages imply that they did (and that Neanderthals had blue eyes and fair skin), even though the "experts" have no evidence for that supposition except their own fallible common sense, imaginations and social agendas.

Compared to most of mankind, Scots and the other HG I and R1b1 populations of northern Europe are the least cold adapted. Did their ancestors evolve more heat reflective and heat dissipating physical characteristics (e.g., fair and pinkish skins, more gangly and less hairy bodies, dolichocephalic heads and hair as blond as a lion's) because they left Africa's equatorial rain forest to hunt for protein in the savannah after the end of the cold glacial period that preceded the Eemian?

The noses, teeth, hair, skin, skeletal characteristics, etc. of northern Europeans are better adapted to the lifestyle of a hunter-gatherer in the hot, dry, and sunny Sahel than those of other races (their skulls have the same features as the Kiffian skulls pictured in column # 17). Are they the most heat-adapted because their ancestors were the last hunter-gatherers to leave Africa, and evolved in sunny grasslands for scores of thousands of years longer than those of any other Eurasian race? Northern Europeans would be as cold adapted as other Eurasian races if their ancestors had evolved for as long as other races in Ice Age Eurasia. Celts would be as small and black as Pygmies if their ancestors had lived for as long in dark equatorial rain forests. Does the HG R1b1 population have the least genetic diversity because it was the last race of hunter gatherers to leave the periodically genocidal climate of the Sahel? Would people who belong to Haplogroups R and I have the physical characteristics they have if they had evolved anywhere else?

Prey that eats grass starves in a forest. Daring people who craved that source of protein left the relative safety of the forest. People who were intelligent enough to communicate verbally and who had fair skins were more likely to survive outside the forest. Those that lived in the Sahel to the north of Africa's equatorial rainforest eventually evolved into all of the prehistoric races that left Africa.

Fair skin and hair is better camouflage in the Sahel. Dark skin is better camouflage in a forest. The mutations that cause Pygmies, etc. to have dark colored skin would not have happened otherwise. Their ancestors might have evolved to be as fair and large as Celts if they had been big game hunters and competed with large predators in the Sahel for over 100 KY.

Races that were poorly camouflaged under the thick canopies of a forest, or in the sunny Sahel, would starve or be killed by predators more quickly than by skin cancer. People who have healthier foods and immune systems, more active lifestyles, less toxic environments, etc. are less likely to develop skin cancer anyway.

The hair of lions and Black panthers would be the same color if the mutations that cause heat absorbing black hair were as advantageous in the relatively treeless and sunny Sahel as they are in a dark forest.

Few animals have a black skin underneath a coat of hair or feathers. Homo sapiens sapiens is no exception. Long, warm body hair helped forest dwellers to survive during the cold humid Middle Pleistocene glaciations. It provided them with all of the camouflage that they needed in a dark forest except on the hairless parts of their bodies. The mutations that cause people to have shorter body hair than Bonobos occurred during the sweltering Eemian interglacial period about 130 KY ago. The less hairy one's body is, the easier it is to remove fleas and other disease causing pests from it.

"The rainforest canopy cut off almost all the ultraviolet light and prevented it from reaching the forest floor". In other words, Pygmies and every other race that has evolved since the Eemian under thick forest canopies (even in Europe) for tens of thousands of years has been exposed to less sunlight than Celtic farmers. Should Pygmies therefore have the fairest skins that supposedly soak up the most sunlight and produce the most vitamin D? No secular theory is less sound and more widely believed even by scientists than this absurd explanation for why Celts and Pygmies do not have the same skin color.

Do you see any pink skin on the Bonobo shown in the picture below? Have you seen feet with soles as pale on the blackest people? Parts of the body where camouflage is not needed are not black. Have you seen backs and chests that are almost as hairy as that of the Bonobo pictured below on the Riviera? Hairy bodies helped Crô-Magnon hunter-gatherers survive the LGM in southern Europe. That northern Europeans have so little body hair shows that their ancestors survived the LGM in the Sahel and the Fertile Crescent (not in northern Eurasia).
Image # 19

Bonobos need dark skin for camouflage only on the hairless parts of their bodies. Their bodies are fairer than the bodies of Pygmies and Bantus because their longer body hair provides all the camouflage they need. All three subspecies evolved for over 100 KY in the same equatorial rain forest.

There is no evidence that Bonobos have interbred with chimpanzees in equatorial Africa since they diverged a million years ago (the Congo River acted as a barrier to prevent the groups from mixing fortunately). Both species share about 98.7% of their DNA with the human and non-human members of our own more or less racially mixed species. Their and our Most Recent Common Patrilineal Ancestor (MRCA) lived about 4 million years ago.

This topic and others explained on this web page show that some conventional opinions are nonsense. The more often politically correct propaganda and lies are repeated, particularly by the media conglomerates, the less anyone will dare to refute them, and the more likely children and the adults they become will believe them, and shun or censor anyone who is sane enough to disagree.
---

Column # 16 ====>
Column # 16
Do We Have a Right To Know Our Ancestry?
Despite the Egyptian government's efforts to keep his test results secret, Swiss scientists who work at iGENEA (FTDNA's European affiliate) recently revealed that Hamitic Pharaoh Tutankhamun (~1333 BC) belongs to Celtic HG R1b1a2. Wikipedia's censors removed the evidence about "Tutankhamun#2011_DNA_research" from this article about his racial identity (it may be possible to find the earlier article via Wikipedia's revision history pages).

Why have the governments of Egypt, Israel and other Fertile Crescent states denied foreign experts' requests to test the DNA of ancient remains from their grave sites, deep in their unoxygenated territorial waters, and even scattered about their roadsides? China once prevented foreign experts from studying the four thousand year old, swastika tatooed, red haired HG R1a mummies of Xinjiang (blond natives still live there). The US government prevented scientists from studying Kennewick Man for nine years.

About 99.9% of the people painted on the walls of ancient Egyptian tombs and the current population of Egypt look nothing like most of the people shown in this PBS video, i.e., Mugabe and Semites. Egyptologist Zahi Hawass has always maintained that "Tutankhamun was not black, and the portrayal of ancient Egyptian civilization as black has no element of truth to it." If this statement implies that Hawass knows to which clades ancient Egyptians belong, why has he not told us?

The skin color in Image #20 above indicates an Egyptian man. Fair skin would indicate a woman and black skin a non-Negroid Ethiopian.
In his "Atlas of African History", Colin McEvedy wrote: "the most important happening in African history was probably the outpouring of Negro tribes across the center of the continent from their original eastern limit in the Cameroon Mountains through the Zaire Basin to the headwaters of the White Nile, opening up equatorial Africa into E. Africa about two thousand years ago.". If tribes from the coastal rain forests of central western Africa who began to conquer sub-Saharan Africa about 2,000 years ago did not create ancient Egyptian civilization, who did? Hamitic farmers created it according to the Semitic herdsmen who wrote the Bible.

The mutation that causes blue eyes may have occurred before the Y-haplogroup R1b1 and I ancestors of northern Europeans left Africa. According to Danish geneticist Hans Eiberg, "the mutations responsible for the blue eye color most likely originate from the Near East area or northwest part of the Black Sea region, where the great agriculture migration to the northern part of Europe took place in the Neolithic periods about 6–10,000 years ago." Are blue eyes and European haplogroups less common in the Near East now because of ethnic cleansing?
The Egyptologist Flinders Petrie and Assyriologist Archibald Henry Sayce analysed Egyptian illustrations of what they identified as Amorites (Amurru) depicted as "white skinned, blue eyed, fair haired". According to Sayce (1889):
The Amorites... were a tall, handsome people, with white skins, blue eyes and reddish hair, all the characteristics, in fact, of the white race.
Sayce further discovered a painting in a tomb (No. 34) at Thebes, belonging to the Eighteenth Dynasty which illustrates an Amorite chief with "white skin and red-brown hair". Henry George Tomkins (1897) an Exeter clergyman and member of the Royal Archaeological Institute also wrote the Amorites were blue eyed and fair haired. Easton's Bible Dictionary also contains an entry stating the Amorites are "represented on the Egyptian monuments with fair skins, light hair, blue eyes, aquiline noses, and pointed beards. The Encyclopædia Britannica, 13th ed., vol. 1, 1929, also contained a physical description of the Amorites from Egyptian illustrations:
Egyptian illustrations of the New Kingdom show the Palestinian Amorites to have been a race much more like the Northern Europeans than the Semites; long-headed, with blue eyes, straight noses and thin lips.
Source: http://en.wikipedia.org/w/index.php?title=Amorite&oldid=470188329#Physical_appearance

'... the terms "Amorites" and "Amalekites" are used synonymously for the "Canaanites"...'
Why did Wikipedia's censors remove from its article at http://en.wikipedia.org/wiki/Amorite the quotes above about the Physical appearance of the Hamitic Amorites who were exterminated by Israel? Should scientific evidence of the history of any people, or holocausts that occurred generations ago, be kept secret? Does it depend on whose ox was gored? According to these quotes from a documentary about Dr. Fred A. Sondermann (1923-1978): Christianized Germans "committed some of the most terrible crimes recorded in all of human history ... must forever be part of our personal experience and of the record we transmit to our children ... the deeds were so incredible, of such non-human scale ... One cannot forget what happened (search for the word "forget" in the large, slow loading, multilingual .pdf document at this link) ... Nor can one forgive."

Experts disagree on the correct interpretation of some archaeological and genetic, etc. evidence. All of the statements herein about Genetic Anthropology and the ancestors of Celts from the time they left Africa are hypothetical and could be phrased as questions. Diana Gale Matthiesen wrote: "Everything is true to one degree or another, and the more evidence you can gather, the more confidence you can have that you are nearer to 'getting it right'." To 'get it right' is our own responsibility. We may help each other to do so by expressing our opinions via the Stewart DNA Forum for members of this family.
Contradictions
Spencer Wells and Geno 2 made the following statements about the British: "This reference population is based on samples collected from populations in the United Kingdom. The dominant 50% Northern European component likely reflects the earliest settlers in Europe, hunter-gatherers who arrived there more than 35,000 years ago. The 33% Mediterranean and 17% Southwest Asian percentages arrived later, with the spread of agriculture from the Fertile Crescent in the Middle East, over the past 10,000 years." This statement contradicts those of Balaresque, etc. above.

The use of euphemisms and mild, indirect, vague and confusing geographic terms as synonyms for races and haplogroups in the paragraph above is confusing and obfuscates the evidence.

E.g., does:
1) "Northern European" refer to Celts, Germans, Slavs, etc.?
2) "Mediterranean" refer to Southern Europeans?
3) "Southwest Asian" refer to Semites?
4) "African" refer to Pygmies, Negroes, Hamites, Bushmen, San, Egyptians, etc.?
Are more specific and less confusing words too harsh, blunt, offensive, racist and easily understood for the brainwashed general public to tolerate?

The above statements of Wells and Geno 2 give the false impression that the patrilineal ancestors of Celts did not come from the Fertile Crescent, that they lived in Europe before the LGM, and that other races brought Neolithic civilization to Europe. Spencer Wells is not the first "expert" that has helped the media conglomerates to manipulate public opinion by broadcasting nonsense that promotes the social agendas of their owners.

Has genetic evidence of the true origins of the R1b1 population of Europe put the geo-political, etc. agendas of Wikipedia's historical revisionists, deniers, social engineers and censors at stake? Must our minds and actions be poisoned by a belief that sacred myths and the "legal" versions of history that we have been force-fed are truth? Let's think for ourselves, not what others think or want us to think. May sanity and the truth prevail, and this web page help people to find it. No secular or religious lie has ever benefited mankind.
---

Column # 17 ====>
Column # 17
Goberno
From November 19 – December 23, 2011, Dr. Paul Sereno led an archaeological and paleontological expedition to Niger's Sahara desert, returning to Gobero, the site of the People of the Green Sahara ... Laboratory analysis includes sampling teeth (dentine) for ancient DNA to better understand where Gobero's inhabitants originated."

No forensic anthropologist can distinguish the skulls above from those of northern Europeans even though there is no evidence that the prehistoric ancestors of the 6.8' tall Kiffians ever lived in Eurasia. E.g., the images of the skulls have prominent nasal sills, overbites and dolichocephalic heads. Kiffians' finely crafted (Mechta-Afalou / Capsian?) artefacts and 10,000 year old northern European-looking skeletons are obviously neither Negroid nor Mongoloid.

The Kiffian and Tenerian skulls shown above have none of the following Negroid features: "Negroid features ... include a broad and round nasal cavity; no dam or nasal sill; Quonset hut-shaped nasal bones; notable facial projection in the jaw and mouth area (prognathism); a rectangular-shaped palate; a square or rectangular eye orbit shape; and large, megadontic teeth". Sahelians did not live in the forest so they ate meat and did not need megadontic teeth to grind the vegetation that forest dwellers eat.

See column # 15 for more information about what the racial characteristics of Kiffians and their European cousins tell us about the environment in which their common ancestors evolved until about 20,000 years ago.

About 140,000 years ago the non-Negroid ancestors of Sahelians immigrated from Africa's equatorial rain forests to the Sahel in order to harvest protein. Every 20 or 30 thousand years a new drought forced another wave of Sahelians to immigrate to Eurasia, where it evolved into a separate territorial race.

A few survivors repopulated the Sahel whenever climatic conditions improved. The hunter gatherer ancestors of northern Europeans left the Sahel during the LGM, later than those of the other major races.

The Sahelians who remained behind became the Berbers. Berbers have been fighting wars for national self-determination and reunification (similar to those of the Kurds, Palestinians and Germans after WWI) because the imperialist rulers of Muslim and European nations conquered their territory. Scientists' access to Goberno has been sporadic because Berbers are now fighting for their survival and resources against the non-Berber governments of Niger, Mali, Algeria, Libya, Burkina Faso, etc.

If the Kiffians' DNA test results are publicized in plain English, and prove that they belong to the same haplogroups as Berbers, the Cameroonian Ouldeme (95.5% R1b+), and many Europeans, might scientists lose funding and access, and 10,000 year old sites like Gobero be deliberately destroyed? What Are They Trying to Hide?
---
Scroll to bottom left to see images.